Stationary flare systems
Overview
Stationary flare systems are installed on site at a fixed position along with the necessary safety, ignition and control devices. Each stationary flare system is individually designed.
PREMA-SERVICE stationary flare systems have been reliably used worldwide for decades in compliance with the highest safety standards. Whether oil industry, refinery, chemical, steelworks or power supply – we design, build and supply stationary flare systems of all sizes, for all requirements and all specifications, as self-supporting construction, guy wired or as a derrick up to 175 m in height. Depending on the order, we take on responsibility for the entire project and hand over the flare system with all components and equipment as a turnkey project or only supply individual parts, such as flare heads and ignition. Our experts are also available for you after the commissioning.
Do you need a flare system for temporary use? PREMA-SERVICE provides transportable flares with all necessary accessories and personnel. Service, re-design, accessories and spare parts for flare systems can be found here
Elevated Flare with 3 Risers
COG Ground Flare
---
Standard flares
Flare systems with standard flare heads type RE are used when either no smoke-free combustion is required or the gas to be combusted is burned without smoke emission.
High-temperature-resistant steels, flame stabilizers and a special windshield ensure a stable flame over the entire operating range of the flare system and a long, maintenance-free service life. The special design of the flame stabilisers ensure good gas-to-air mixing and low speeds at the location of the pilot burners, ensuring safe ignition; even a purely electrical ignition via ignition rods is possible. A built-in, maintenance-free (possibly multi-stage) seal reduces the consumption of purge gas.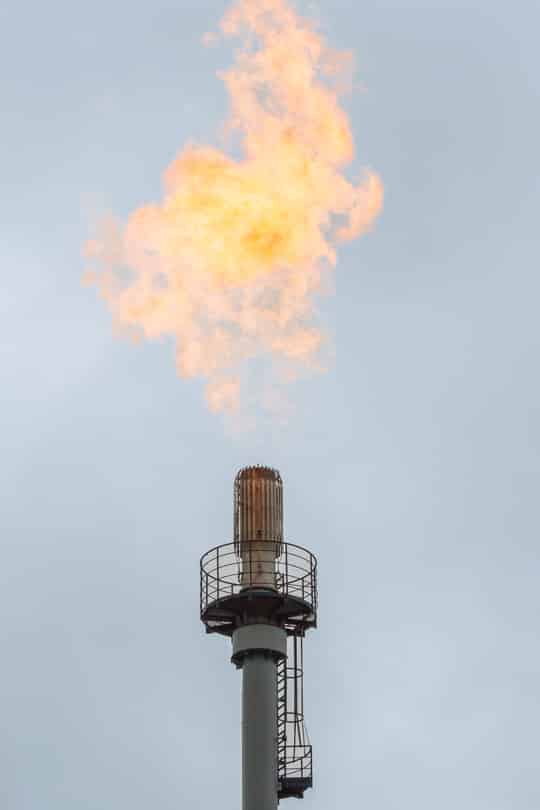 ---
Smokeless flares
PREMA-SERVICE steam-assisted flares are used when heavy gases are to be burned without smoke and medium- or high-pressure steam is available. Various types of flare tips with steam injection into the flame inside and outside are available and are calculated for the respective application. Our special design offers low steam consumption, low thermal radiation, low noise and a long service life.
If steam is not available in sufficient quantities, a smoke-free combustion of heavy gases can also be achieved with air-assisted flare tips. Air-assisted flares use fans to generate additional combustion air and flow directly into the gas stream in the flare tip, therefore achieving smokeless combustion with a long service life.
Special air-assisted flare tips are available for applications like the conversion of existing flares to a smoke-free design. These flare tips allow a conversion with minimal downtime and low investment.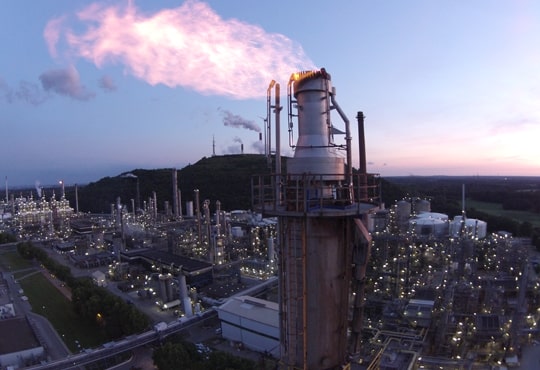 ---
Low heating values
Gases with low heat values are mainly found on steel plants. For these gases, PREMA-SERVICE offers RE-N type flare tips that allow safe combustion without additional supporting gas. Due to the special construction, a purely electric ignition is possible, so no pilot burners are required. PREMA-SERVICE flare tips for low heating values ​are characterised by a wide operating range, a high flame stability, reliable ignition, low noise and a very long service life.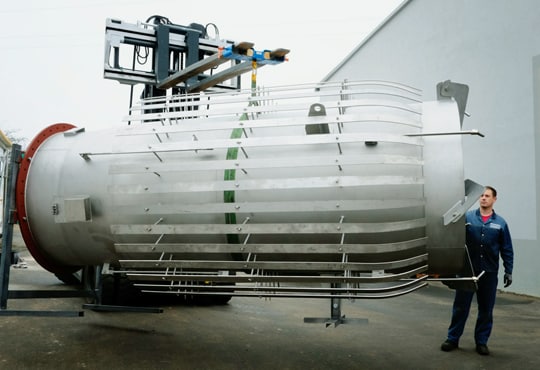 ---
Ground flares
For applications where the use of a elevated flare is not possible, smoke-free combustion with a high burnout or a non-visible flame is required, PREMA-SERVICE offers ground flare systems.
In these systems, a multi-stage burner is completely enclosed by a thermal and sound-insulated combustion chamber. This solution offers many advantages:
Clean, smoke-free combustion without steam or additional air

No thermal radiation outside the system

Low noise emission

No visible emissions

Large turn-down range

Critical components are easily accessible
Ignitions
Pilot burners
PREMA-SERVICE pilot burners are available for all gas mixtures and can be equipped for electric ignition, flame front ignition or both types of ignition.
Properties:
Long life due to temperature-resistant materials

Low-temperature, weather and storm resistant (at least up to 70 m/s)

Can be adapted to all gas mixtures by means of different nozzles and designs

Easy assembly

All flare tips can be upgraded

Critical components are easily accessible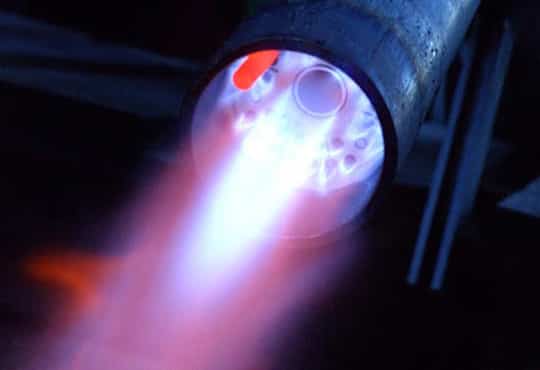 ---
Flame front ignition
Flame front ignition panels are available for manual operation or as an automatic version with automatic re-ignition. Using a combination of manual flame front pilot ignition with electric re-ignition of the pilots is also possible.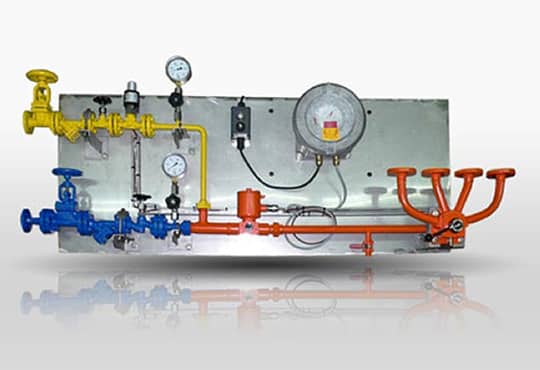 ---
Electrical ignition
The high-energy ignition for pilots consists of an electronic control, the ignition module and an ignition electrode in the pilot burner. All components are free of maintenance. For the direct, continuous electrical ignition of the main gas – without pilots – ignition modules and ignition rods are also available.
Monitoring and control
Pilot flame monitoring
The flames of the pilot burners can be monitored with thermocouples, ionisation or both methods. In addition, the new, patented CRD technology (closed radiation detection) provides a further robust method for reliably monitoring the pilot flame.
---
Controls
Various control and monitoring systems are required for flare systems: to monitor the pilot burners and control the ignition, to monitor and control the steam or air volume of smoke-free flare tips, to control the fans, to monitor the flow of purge gas, to control the gas burners for ground flares, to monitor the water level of water seals, to control condensate pumps and much more. The PREMA-SERVICE specialists design, build and implement all types of controls, with conventional technology or as PLC systems with bus interface to your DCS.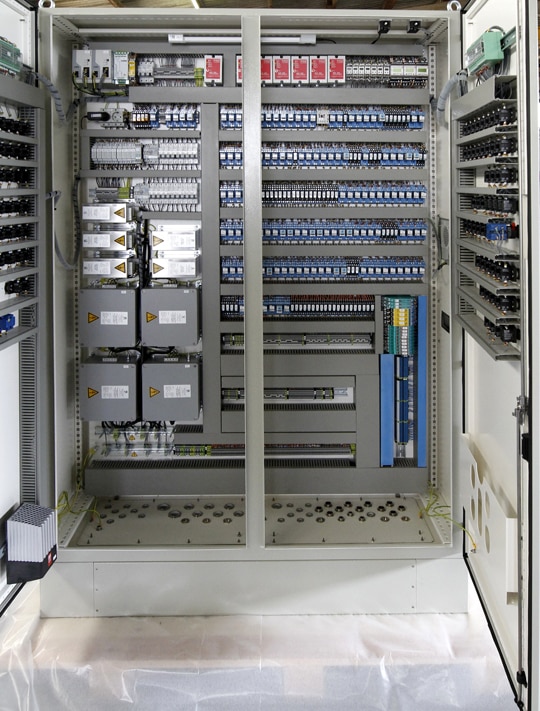 ---
Steel construction
Several steel structures are available for high flares:
In a guy wired flare the flare riser is held in position by steel wires. This construction is economical but requires additional foundations and anchors for the wires and calls for a large space.
With the self-supporting design, the flare riser is so sturdy that it is not necessary to use bracing or other supports. A connected construction with several flares or flare tubes is also possible.
In the case of large flares, a derrick supports one or more flare risers assembled in the centre of the derrick or on one side. Special constructions allow the lowering and maintenance of the riser and the flare tip. Even without the use of a crane or while adjacent flares are in operation.
---
Accessories
Depending on the application and design, further process-specific components and systems are necessary for flare systems such as, for example,
Gas pressure reducing station for pilot burners

Equipment for reducing the consumption of purge gas (molecular seal, velocity seal)

Separators for particles and liquids (knock-out drum)

Water seal

Aircraft warning lights (ACWL)

Heating systems (electrical or with steam)

Fans and compressors

Pumps
All components can be ordered as part of a complete system or as a spare part.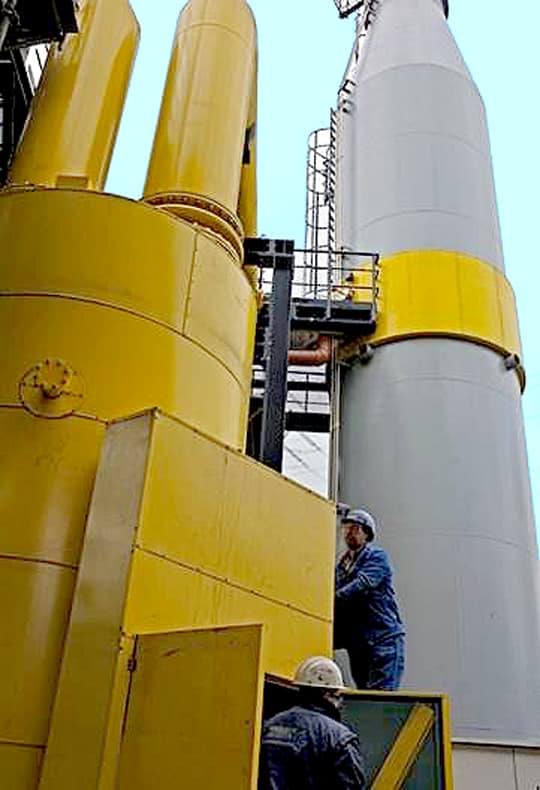 ---
Mr. Ralph Franzkowiak | Engineering| +49 6003 46292-73 | Send an e-mail